Get the most out of your fighting experience with our guide to fight shorts. Learn how to find the best fit, choose the right materials and make your fight short durable.
Fight shorts are an essential piece of gear for martial arts fighters, whether in the gym or in the ring. When selecting a pair of fight shorts for yourself, there are many factors to consider in terms of fit, materials and durability. With our guide, you'll be able to find the perfect pair of fight shorts that will help you stand out in style and stay safe while competing.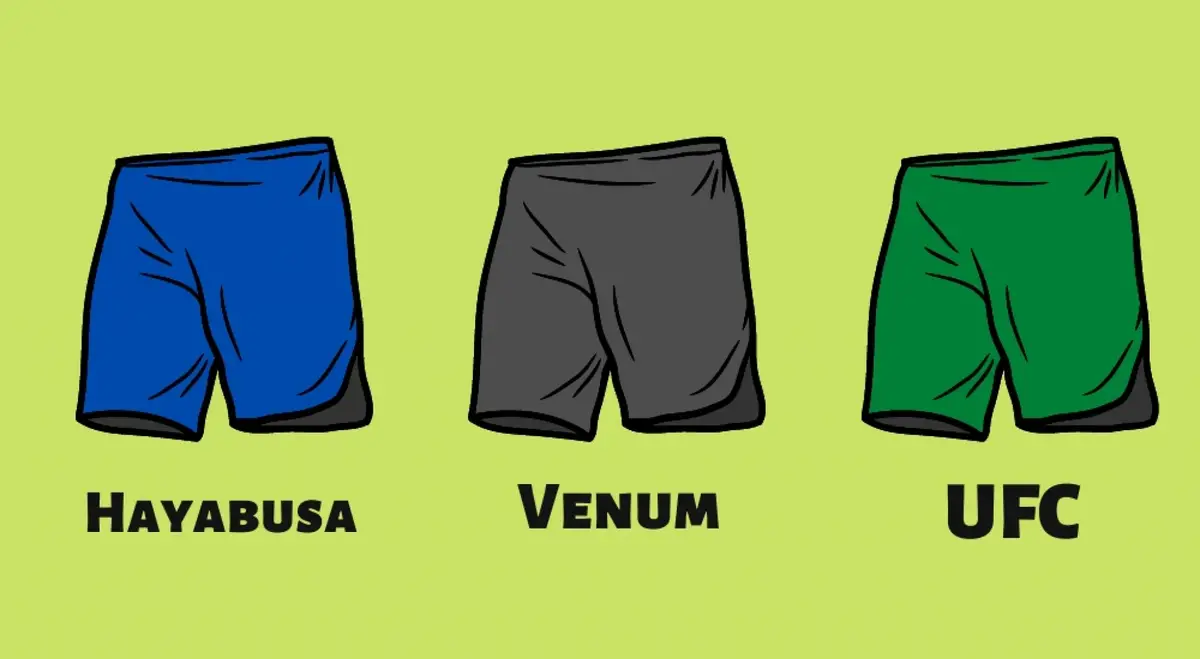 Select the Right Fabric fight gear.
Choosing the right fabric for your fight shorts is crucial for both comfort and performance. At a minimum, you should look for shorts made from 100% lightweight, breathable polyester to ensure complete freedom of movement. For maximum durability and long term use, look for tough fabrics like rip-stop nylon that won't tear even when stretched or flexed during an intense fight. Avoid cotton shorts as they absorb sweat and slow down your movements.
Make sure the fit is tight but not restrictive. You should have free range of motion, so it's best to go for shorts that are snug but with a little bit of give. You should also look for shorts which feature an additional drawstring for deeper and stronger waist coverage.
Finally, if you're looking for extra protection, opt for fight shorts with built-in MMA padding throughout the groin area, hips and seat to absorb impacts during sparring matches or competition fights.
Choose Stretch Mesh Design Features.
For better mobility, look for shorts with stretch mesh panels in the crotch and sides. Stretch mesh helps provide breathability and improves your range of movement. Plus, it also prevents chafing in high tension situations such as grappling or striking. If possible, try on a few styles of shorts to find the right fit and design features that work best for you.
Choose drawstring waistbands for a secure fit.
Drawstrings allow you to adjust the tightness of the fight shorts around your waist so they don't come loose in a grappling match.
You also want to consider features such as reinforced seams, an adjustable hook-and-loop system on the inside of the waistband and a grip panel with silicone reinforcement to keep your shorts in place during training or competition.
Best fight shorts for training sessions, look for equipment made with split-side panels that make it easier to move in all directions with ease.
Consider Fit and Adjustability.
Fit is one of the most important factors to consider when buying fight shorts. Not only do ill-fitted shorts restrain your movement, but they can also compromise your performance during drills and fights. Look for adjustable waistbands that give you added mobility and ideal hold for proper technique execution.
Additionally, ensure that the waistband is comfortably loose without being too baggy.
In addition, consider the length of your fight shorts. Many MMA fighters prefer a longer store that extends just above the knee for maximum flexibility.
However, if you are someone who prefers to move freely with no fabric restriction, then opt for shorts with a shorter inseam length. You should be able to comfortably stand or kneel without going too much on either side of the knee line. Ultimately, you want your fight short to allow you full range of motion and ample space so that each movement feels light and comfortable.
Opt for Moisture-Wicking Materials.
During sparring, grappling, and heavy drills, you generate more sweat than usual. That's why it's important to choose fight shorts made with moisture-wicking materials. This way, your skin can breathe properly and remain dry throughout an intense session.
Fabrics like polyester and spandex tend to offer the best combination of breathability and comfort as you move around.
Fight shorts with a double-layered cup pocket are another good feature to look for.
They're designed with an extra layer of fabric that fits over and around the cup. This can provide extra cushioning and support during particularly rigorous drills or when sparring against a more experienced opponent.
The added fabric also helps keep the cup in place, so you won't have to readjust it between rounds.
Test the Durability of Your Fight Shorts' Construction.
Durability is essential for any fightshorts, so it's important to test its construction. Look for seams that are reinforced and double-stitched, as well as fabric that can stand up to tearing and pulls from grappling drills. You should also check if the waistband is adjustable with flexible drawstrings; this will help ensure your shorts fit snugly and won't distract you during a back-and-forth session.
Most importantly, make sure there's enough room in your fight shorts so that you can perform movements without worrying about splits or scrunching. You should be able to move freely and easily while feeling secure. The last thing a competitor needs is to worry about their fight shorts falling off during a match. Testing the waistband, stitching, and fabric's elasticity can provide the security needed to remain focused during a bout.
Best Fight Shorts Price comparison
Now you know what to look for when shopping for new fight short, all you need to know now is where to get te best deals on fight gear.
We have got you covered and compared the prices.
This product is available at Walmart.com, Udemy, Amazon.com.
At udemy.com you can purchase Movement-Based Strength and Conditioning for MMA for only £16.00 , which is 77% less than the cost in Amazon.com ($69.00).
The lowest price of Hayabusa Hexagon Mid-Thigh Fight Short - Black, Large was obtained on September 23, 2023 7:02 am.
Best Fight shorts Review
Free Fight Shorts Price Alert
Still want a better price on your fight gear? Then signup for the free price drop notification.
We will tell you when the price drops so you can grab the best fighting gear for the best price.
Create Your Free Price Drop Alert!
Set Alert for Men Boxing Shorts For Boxing Training Fitness Gym Cage Fight MMA Mauy Thai Kickboxing Trunks... - $18.99
Gi or No Gi
Are you fighting in BJJ then you might prefer fighting in a traditional Gi, this all comes down to your personal preference.
Checkout our complete guide on buying the best Gi for your needs
Are you just getting started?
Then you should really checkout the complete guide to your first martial arts training.
After reading this guide you will feel more at ease because you know what to expect and how to behave.
MMA Strength Building Courses
Paul is a 44 year old Online Marketeer and Dad to a beautifull daughter who started Judo and Japanese Jiu Jitsu.
After a few lessons Paul joined a class where the parents where allowed to go on the mat with the kids.
Since then Paul is hooked and he immediately started immerging himself in the world of martial arts.